Louis Panacciulli accepted the position of Music Director of The Rockaway-Five Towns Symphony Orchestra in the summer of 2016 after a two year conductor search by the symphony. This appointment was received with great excitement by Maestro Panacciulli and he takes on this role with gratitude to the board and deep appreciation to the musicians of the orchestra.
Mr. Panacciulli comes to the RFT with a wide and varied background. He received his Bachelor's Degree in Music from Pace University and has the distinction of being the first graduate to have received this degree in a unique cooperative program with New York University. Mr. Panacciulli also attended The Mannes College of Music, and in 1973 received his Master's Degree from New York University. He is currently an active member of major local and national music and educational organizations.
Since 1984, he has been the Music Director of The Nassau Pops Symphony Orchestra and in 1987, Mr. Panacciulli founded The Nassau Pops Wind Ensemble, a 38 member symphonic band. Between the years of 1991 and 2001, he conducted the Valley Stream Orchestra's summer concert series and entertained appreciative audiences at their Village Green outdoor theater. Mr. Panacciulli is a Professor of Music at Nassau Community College and has been their Band Director since 1991.
In addition to his busy conducting schedule, he can be found performing as clarinet soloist and as member of several wind ensembles, concert bands and orchestras on Long Island and the New York City metropolitan area. He has often acted as Music Director for many of Long Island's fine musical theater presentations. Among the many shows to his credit are: Oliver, The Man of LaMancha, Anything Goes, The Fantastiks, The Sound of Music, Fiddler on the Roof, The Music Man, Annie Get Your Gun, and Oklahoma.
Since 1989, Mr. Panacciulli and The Nassau Pops have organized and performed benefit concerts for various charities including Special Olympics, One in Nine, Glen Cove Hospital, The Independence Fund for severely wounded veterans, and most recently Cerebral Palsy of Nassau County. These gala events, many of which are held at the Tilles Center, have raised thousands of dollars for these charities. Mr. Panacciulli has had the privilege of working with many prestigious entertainers. Among them are composer Marvin Hamlisch, Saturday Night Live's Joe Piscopo, singer/impressionist Marilyn Michaels, The Cast of Beatlemania, singer/recording artist Linda Eder, and song writer Jimmy Webb. A recent PBS special had as its centerpiece, a concert performance with tenor, Michael Amante. It was broadcast in over forty cities across the country and received a New York Emmy Award nomination.
Based in the Village of Mineola, The Nassau Pops also maintains affiliations with Nassau Community College and the Mineola Choral Society. Since 1987, they have been an integral part of many ceremonies at St. John's University, and each year, they present a traditional Christmas performance at the Chaminade High School Auditorium in Mineola. Mr. Panacciulli recently retired as a teacher of instrumental music in the Valley Stream District 13 Schools. He currently resides with his family in Franklin Square.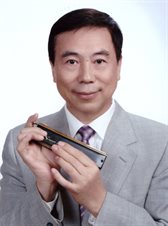 Jiayi He, a world-class harmonica virtuoso, has received numerous awards in international festival and competitions in England, Germany, Israel, Japan and United States. He has served as a member of the judging committees in the Asia-Pacific Harmonica Competitions held in Taiwan, Malaysia, Hong Kong, Hangzhou, Korea and Singapore. Jiayi has appeared as a soloist with China National Symphony Orchestra, Nassau Symphony Pops Orchestra and numerous orchestras worldwide. He has appeared on TV stations including NBC, New 12 Long Island, Queens Public Television, Sinovisson and Sino Television. Jiayi has recorded harmonica music for a number of movies and radio stations in addition to his compact discs. Mel Bay Publications, Inc published his books "Recital Pieces for Chromatic Harmonica""Virtuoso Harmonica Solos". Jiayi has been a soloist at Carnegie Hall, Lincoln Center, Shea Stadium, General Assembly Hall at United Nations and other premier venues. Former New York City Mayor Bloomberg attended his harmonica seminar held at the "Harmonica Mass Appeal 2012". Jiayi currently serves on the faculty of the Turtle Bay Music School in New York City.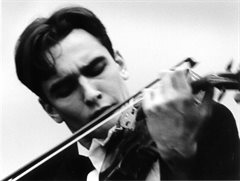 Violinist Anton Polezhayev won "Grand Prix" and gold medal at the "International Violin Competition of Pierre Lantier" in Paris France,1997. He was one of the finalists at the "Paganini International Violin Competition" in Genoa, Italy 1998, placing 5th, and was also a finalist at the San Francisco International String Competition of E.M. Klein 1994. He has won numerous other competitions, awards and scholarships.
Anton was a member of the New York Philharmonic from 2002 to 2004.
Prior to the Philharmonic, he was a member of New Jersey Symphony Orchestra
from 2000 to 2002. Anton was also an associate concertmaster of the New York Virtuosi Chamber Orchestra from 2004 to 2008.
In 2006 he performed as Associate Concertmaster with the Mariinsky (Kirov) Orchestra,
St. Petersburg, Russia. In 2007 Anton held a position of Associate Concertmaster with Orchestra Sinfonica do Estado de Sao Paulo, Brazil.
As a soloist and recitalist A. Polezhayev was featured on the cover of Part 2 of on October 21, 1992 and New York Times January 18, 2004 and has performed on radio and television.
Anton has performed as soloist with numerous orchestras in the US and his native Russia.
His credits also include performances at the International Concert Series at Hofstra University, the Tilles Center, Alice Tully Hall in New York City
and numerous concert halls in Europe and Russia.
Anton was educated at the Manhattan School of Music where he studied with
Mitchell Stern (1991-92), Albert Markov (1993-1999) and Sheryl Staples (1999-2001).
Anton was born in St. Petersburg, Russia, in 1976, and began his violin studies
at the Central Music School of Moscow State Conservatory. His first teachers were Anatoly Schwarzburg, Galina Turchaninova and Mikhail Bezverhny.
At the conclusion of the 2008-2009 Season, New York Philharmonic Principal Clarinet Stanley Drucker celebrated 60 years as a member of the Orchestra. In honor of this milestone anniversary, he became an honorary member of the Philharmonic Society of New York, the first orchestral musician so honored.
The Philharmonic estimates that he has performed in 10,200 concerts, which is approximately 70% of the total number of their concerts since 1842. He has been Principal Clarinetist for a record 48 years, making close to 200 appearances as soloist and chamber musician with the orchestra. He played under 9 Music Directors, among them Bruno Walter, Dmitri Mitropolous, Leonard Bernstein, Pierre Boulez and Zubin Mehta. He has performed in 60 countries on tour. He is listed in the Guinness Book of World Records as "Longest Career as a Clarinetist."
Mr. Drucker maintains an active solo career, appearing with ensembles throughout the world. He has been nominated twice for Grammy Awards in the category of Best Instrumental Soloist/Classical with Orchestra: In 1992 for his recording of the Copland Concerto with the Philharmonic and Leonard Bernstein, and in 1982 for John Corigliano's Concerto with the Philharmonic and Zubin Mehta. Mr. Drucker is featured on a number of other Philharmonic recordings: under the direction of Leonard Bernstein in Debussy's Premiere Rapsodie; in Nielsen's Clarinet Concerto; and in the World-Premiere live performance (1977) of the Corigliano Clarinet Concerto, which is a part of the Orchestra's acclaimed CD box set, The Historic Broadcasts: 1923-1987. Mr. Drucker's other recordings include New York Legends: Recitals with Principals from the New York Philharmonic; Schumann's Complete Works for Winds and Piano; the Mozart Quintet for Clarinet and Strings in A, K.581, and a two-CD set of the two clarinet sonatas, Trio in A minor, and Quintet in B minor of Johannes Brahms entitled Drucker Plays Brahms. He is also heard on the World-Premiere broadcast of William Bolcom's Clarinet Concerto, part of the New York Philharmonic Special Editions boxed set An American Celebration.
In recognition of his highly respected and widely acknowledged musical excellence and dedication, he was named Musical America's 1998 Instrumentalist of the Year.
Mr. Drucker began clarinet studies at age ten with Leon Russianoff, his principal teacher, and later attended the High School of Music and Art and The Curtis Institute of Music. He was appointed Principal Clarinetist of the Indianapolis Symphony Orchestra at age 16, of the Adolf Busch Chamber Players at age 17, and of the Buffalo Philharmonic at age 18.
Bill Zito, Guitar, May 2015
Bill Zito, a native New Yorker, began studying guitar at the age of twelve. He studied early music with Rodrigo DeZayas, guitar with Stan Solow and Rey de la Torre, and composition with Julian Orbon. His formal debut came in Alice Tully Hall where he received critical acclaim. Soon after, he was chosen by Hi Fidelity Magazine as one of the Young Artists of the year. Mr. Zito was an Artist International Competition prize winner.
Called "First rate throughout the entire afternoon" by the N.Y. Times, Mr. Zito has received praise for both his solo and ensemble work. He has toured extensively throughout the United States and Europe. This versatile performer is equally at home on lute as he is on the guitar. On one evening with Philharmonia Virtuoso he performed back-to-back concerto's on mandolin, lute, and guitar. Mr. Zito is no stranger to working with voice. He has performed and toured with Orpheus and Andreas Scholl and Carnegie Hall with St. Luke's Orchestra with David Daniels and Roger Norrington. In a memorial concert for Peter Pears, the NY Times said, "One admired (his) easy assurance with this music, the runs and flourishes dispatched with fluent virtuosity".
Along with opera and dance scores and music for the stage, he has premiered many new works. He is currently a member of the Strathmere Ensemble and Long Island Baroque and has performed with Philharmonia Virtuosi, the Da-Capo Chamber Players, Orpheus, St. Lukes and the New England Bach Festival at Marlboro. Mr. Zito's most recent recording, the music of Judith Shatin is titled Dream Tigers.
Mr. Zito is currently on the faculty of Nassau Community College, Adelphi University, Hofstra University, and Queens College.
Angela Wee, 17, was born in New York and began her violin studies at age 4. At 10, she entered the Juilliard Pre-College where she is currently studying with Masao Kawasaki.
Angela won the 2011 Juilliard Pre-College Concerto Competition and resulted in performing with the Juilliard Pre-College Symphony in Alice Tully Hall. In 2012, she participated in the Menuhin International Violin Competition in Beijing and was placed as one of eight finalists. Angela won top prize in the 2013 Cooper International Violin Competition and 2nd prize in the 2013 Dorothy DeLay Fellowship Competition in the Aspen Music Festival. Recently, she won 3rd prize in the 2014 Klein International Competition and 1st prize in the 2013 Salomé Chamber Orchestra Competition where she was awarded a Stradivarius and performed in Carnegie Hall. She also won 1st prize in the Long Island Philharmonic Competition where she performed in Oheka Castle, 1st prize in the LISMA International Competition, 1st and Grand Prize in the New York Music Competition, and 2nd prize in the Blount-Slawson National Young Artist Competition and First Prize in the Island Symphony Orchestra Competition in 2012.
Angela's live broadcasts on national radio include NPR's From The Top with pianist Christopher O'Riley and her collaboration with Robert McDuffie in the Harris Hall 20th Anniversary Concert in Aspen where she has been a recipient of the New Horizons Fellowship for three years. She also received a scholarship and was invited to participate in the David Finckel/Wu Han Chamber Intensive Program in Aspen. Angela has also performed as a soloist at the Interharmony Music Festival held in San Francisco and Germany. Since the age of six, Angela has performed with numerous orchestras in grand venues such as Carnegie Hall and Lincoln Center as a result of competitions, which include the Queens Symphony Orchestra, the Metropolitan Youth Orchestra, the Sound Symphony Orchestra, Island Symphony Orchestra, Massapequa Philharmonic, the Greenwich Village Orchestra, the New York Chamber Orchestra, and many more. At nine, she was invited as a guest performer for The Lauri Strauss Leukemia Foundation Benefit Concert at Carnegie Hall's Issac Stern Auditorium.. Angela was selected as one of the Young Artists for the 2009 and 2013 Starling-DeLay Symposia on Violin Studies. She was also invited as a guest performer at the Bohemians New York Music Club giving a recital with pianist Akira Eguchi. Angela has performed in the master classes of Chee-Yun Kim, Paul Kantor, David Kim, Cho-Liang Lin, Robert McDuffie, Jorja Fleezanis, and Ani Kavafian.
Lawrence Malin, October 2009 (Photo by Kate Eisemann Pictures)
Lawrence C. Malin is a product of Brooklyn public schools and the Mannes College of Music where he graduated with honors. His major teachers were William Vacchiano and Raymond Mase. Mr. Malin has performed professionally with The Summit Brass, The Goldman Band, The Gramercy Brass Band of New York, The Bronx Symphony, The Brooklyn Symphony Orchestra, The Opera Orchestra of New York, The New York Grand Opera, The Florida Symphony Orchestra, The Harkness Ballet, Radio City Music Hall Symphony Orchestra, Ringling Bros. and Barnum & Bailey Circus and Broadway and Off-Broadway musicals. He has worked directly with such diverse artists as Morton Gould, Leonard Slatkin, Murray Perahia, Edward Villella, Sarah Vaughn, Erroll Garner, Marian McPartland, John Pizzarelli Jr. and Ginger Rogers. As a soloist, Mr. Malin has performed the Haydn Trumpet Concerto with the New York Symphonic Arts Ensemble and the Bronx Symphony Orchestra. He has also been a soloist with the Brooklyn Chamber Orchestra (Haydn Trumpet Concerto, Vivaldi Concerto for Two Trumpets), St Georges Chorale Society (Vivaldi Concerto for Two Trumpets, Bach Cantata 51), The Riverside Orchestra (Copland Quiet City) and the International Bach Society under the direction of Rosalind Tureck. As an educator Mr. Malin has taught literally thousands of children to play band instruments. He has coaches the brass sections of three of the renown InterSchool Orchestras of New York and teaches at his own studio. He has taught at the Manhattan School of Music Summer Music Camp and is the Band Director of P.S. 87 in Manhattan as well as a teaching artist in the Brooklyn Philharmonic smartsARTS program.
Byung Kook-Kwak, Violin, May 2009
Internationally acclaimed as one of the finest violinists of this generation, Byung-Kook Kwak enjoys a versatile career as a soloist, chamber musician, and educator. From coast to coast, critics have hailed him as a premier violinist whose musical gifts and technical wizardry are powerful and sensitive.
Mr. Kwak has received critical acclaim for his performances with orchestras such as Baltimore Symphony, Atlanta Symphony, American Symphony, Kansas Philharmonic, Edmonton Symphony, Montreal Symphony, New Philharmonic of New Jersey, Westchester Symphony, Houston Symphony, North Carolina Symphony, Chicago Civic Orchestra, Long Beach Symphony, Queens Symphony, Little Orchestra Society, as well as Los Angeles Chamber Symphony.
In
Europe
, he has appeared as a soloist with Stuttgart Chamber Orchestra, Cologne Radio Orchestra, Bamberger Symphony, Rotterdam Philharmonic, and French National Orchestra. He has been featured soloist with New York Virtuosi on its European tour in 14 major cities, including Ton-Halle in
Cologne
, Civic Hall in
Hanover
, Royal Albert Hall in
London
, and most of the major concert halls in
Germany
,
Holland
, and
France
. In
Scandinavia
, he has appeared with Helsinki Philharmonic, Gothemberg Symphony, and Oslo Philharmonic.
Active as a chamber musician, Mr. Kwak participates in chamber music in diversity, playing from baroque ensemble to Schonberg and Penderecski, and is a member of world renowned Sea Cliff Chamber Players. He is also very active as a concertmaster and appears in that capacity with virtually every major symphony orchestra around the Metropolitan New York area.
Mr. Kwak has occupied himself with a busy conducting schedule as well. He has been the conductor of the Summit Music Festival Orchestra for the past five years, has conducted the Queens Symphony Orchestra, and the Manhattan School of Music Summer Festival Orchestra in the summer of 1999. During the season of 1999-2000, he has been engaged as a guest conductor with the Long Beach Symphony and the Queens Symphony Orchestra, as well as the Orchestra of the Westchester Conservatory of Music, and the Manhattan School of Music Summer Festival Orchestra. He has also been active as a choral conductor for over twenty years.
Combining all these with a teaching career, he has been an assistant to the legendary Aaron Rosand at Mannes College of Music for ten years, and he is currently a faculty member at Manhattan School of Music Pre-College,
Lehman
College
,
Queens
College
, Westchester Conservatory of Music, and chairman of strings at Jewish Academy of Fine Arts.
Born in
Seoul
,
Korea
, Mr. Kwak was hailed as a child prodigy who made his orchestral debut at the age of seven with Seoul Philharmonic. He was awarded first prizes in most prestigious competitions in
Seoul
, including 5.16 president's award and Dong-A National competition. Continuing his studies in the
U.S.
, he became one of the youngest violinists ever to be accepted to study with Jascha Heifetz at age twelve. Having earned his Bachelor and Master of Music degree from the
Juilliard
School
, he studied with Dorothy DeLay, Ivan Galamian, and chamber music with Felix Galimir and the Juilliard Quartet.
Mr. Kwak plays on a J.B. Guadagnini, ex "Brodsky", circa 1751.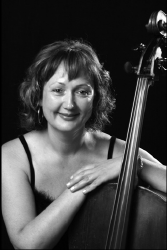 Natalia Galebsky, Cello
Natalia Galebsky, cellist, is a native of Saint Peterburg, Russia. She attended the prestigious Saint Petersburg Conservatory. Immediately following her graduation she served five years as a cellist at the Maley Opera House,Saint Petersburg. In 1990 Ms. Galebsky immigrated to Israel, were she was appointed principal cellist of the Raanana Simfonette. She toured Europe extensively with this orchestra, collaborating with such performers as Ray Charles, Manhattan Transfer, Stevie Wonder, Maxim Shostakovitch and Konstantin Orbelian. In 1999, Ms. Galebsky arrived in the United States and settled in Brooklyn, New York. She now freelances with several symphonic and opera orchestras, including The Bronx Symphony Orchestra, The Westchester Chamber Orchestra, Regina Opera, Camerata NY, and the Adelphi Symphony Orchestra. Ms.Galebsky has recently recorded a CD with jazz musicians Igor Butman, Lenny White, and Eddie Gomez and was a soloist with the Greenwich Village Orchestra in a Vivaldi double Concerto, with the Bronx Symphony Orchestra in Beethoven Triple Concerto, and with the Center Symphony Orchestra in Saint-Saens cello Concerto. This concert marks her debut as a soloist with the Rockaway-Five Towns Symphony Orchestra.

Leonarda Priore
Mezzo Soprano
Debuting in 2001 at Carnegie Hall as a featured soloist, Ms. Priore is a well-known, versatile artist that has performed with companies throughout the United States in opera, jazz, sacred, classical and popular genres. She has sung leading roles in Cavalleria Rusticana, Gianni Schicchi, Suor Angelica, The Mikado, Rigoletto, Le Nozze di Figaro, Hansel and Gretel, Falstaff, Little Red Riding Hood, Samson et Dalilah, Un ballo in maschera and the title role of Carmen. She has performed professionally with symphony orchestras and her oratorio credits include Bach's Magnificat, Mozart's Coronation Mass, Solemn Vespers and Regina Coeli, Bernstein's Chichester Psalms, Faure's Requiem, Mendelssohn's Elijah, Vivladi's Gloria, Handel's Dittengen Te Deum and Beethoven's Mass in C. Her recent performance as Augusta in The Ballad of Baby Doe garnered aclaim..."Priore sang beautifully and with great warmth, commanding the stage whenever she was on...Priore manages to inhabit (Augusta) fully, with obvious affection and understanding."
Leonarda is the co-founder/producer of Chelsea Opera in New York City. She has just returned from her hometown of Utica, NY where she was the featured artist in a concert at the prestigious Munson Williams Proctor Arts Institute. Upcoming performances include Gianni Schicchi and Suor Angelica.
Dina Nesterenko - Violin (December 1, 2007)
Dina Nesterenko (violin) was born in Omsk, Russia in 1980. She started studying violin at the age of four with her parents who are violin players themselves. At the age of ten Dina moved to Novosibirsk to study violin at the famed Specialized Music School established by the Novosibirsk conservatory.
In 1998 Dina entered the world-renowned Curtis Institute of Music in Philadelphia. She studied there with Victor Danchenko who was a pupil of David Oistrakh. In addition, she participated in Curtis Symphony Orchestra master classes and performances with conductors Simon Rattle, Roger Norrington, Charles Dutoit, Mstislav Rostropovich, Yury Temirkanov, Wolfgang Sawallisch, Christoph Eschenbach. In May 2002 Dina graduated from the Curtis Institute of Music and received her Artist's Diploma. In May 2006 Dina graduated from The Juilliard School with a Bachelor's degree in the studio of Robert Mann.
During her musical career, Dina has frequently soloed with orchestras and participated in numerous competitions that include:
Kloster-Schoental (

Germany

, 1995). Received 2nd Prize and a special "Virtuozo" Prize.

Classica Nova (

Germany

, 1996). Won 1st Prize and a special prize for interpretation of Shostakovich music.

All-Russian Competition, Senior Division (

Moscow

, 1997). Received 2nd Prize. She was the youngest participant at the competition.

Tchaikovsky (Senior) Competition (

Moscow

, 1998). Received a semi-finalist diploma.
In October 2003 she was an alternate (2nd place) in the Mozart concerto competition in The Juilliard school. Currently, she is a recipient of Starr scholarship for studying in the Juilliard school. As a long-term goal, Dina sees herself as a performing musician and a teacher. She would like to perform as a soloist and in chamber ensembles.